Aura of Command

—Image © Kabam
Information
Type
Combat
Gems Required
30
How also available
Merlin's Magical Boxes
What it does
Increases the maximum number of troops by 25% for one March.
How to Use
You can only use it when you're sending at rally point. Just mark tick Apply Aura of Command to increase your Maximum Troops on this march by 25%.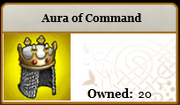 Ad blocker interference detected!
Wikia is a free-to-use site that makes money from advertising. We have a modified experience for viewers using ad blockers

Wikia is not accessible if you've made further modifications. Remove the custom ad blocker rule(s) and the page will load as expected.