Battering Ram

—Image © Kabam
Information
Attack
500
Defense
40
Life
10000
Speed
120
Range
600
Load
45
A Battering Ram is a large log-like object, used for knocking down the enemy's defenses.
Where to use
Not only useful for breaking through wall fortifications but also to reduce troop losses in everyday raids.
Additional Information
One Battering Ram takes out three Traps.
One Battering Ram takes out ten Spike Walls.
50 Battering Ram takes out 300 Defensive Trebuchet.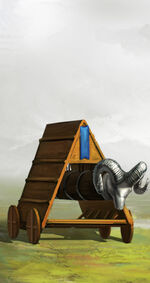 Ad blocker interference detected!
Wikia is a free-to-use site that makes money from advertising. We have a modified experience for viewers using ad blockers

Wikia is not accessible if you've made further modifications. Remove the custom ad blocker rule(s) and the page will load as expected.