Catapult

—Image © Kabam
Information
Attack
1200
Defense
50
Life
960
Speed
80
Range
1500
Load
75
Catapults throw large rocks from a huge distance. They are most effective against the enemy's defenses.
Where to use
Catapults are useful on attacking level 10 wildernesses if you want to minimize losses.
Additional Information
You need three Divine Inspirations in order to train these troops :

1 for level 10 Barracks;
1 for level 10 Alchemy Lab;
1 for level 10 Workshop (requirement for level 10 Geometry research. Therefore level 10 Workshop does not have to be in same city as level 10 barrack).

Due to the astronomical upkeep of Catapults, it is best to keep these in one of your cities which only has farms on its fields.
Upkeep: 188
Each catapult gives you 10 might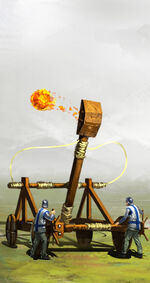 Ad blocker interference detected!
Wikia is a free-to-use site that makes money from advertising. We have a modified experience for viewers using ad blockers

Wikia is not accessible if you've made further modifications. Remove the custom ad blocker rule(s) and the page will load as expected.