Messages by KoC Chat
If the player you would like to communicate with is online, you can talk to them privately in the chat window.
To do so simlpy enter:
@playername message or /playername message
If the player is online, your message will instantly appear in the chat window. If the player you are currently trying to contact is offline you will get a message saying the player may not be online.

Chat Rules: No bad language. No personal attacks. No links. Use /username to whisper to another player. Respect the mods and each other and most importantly, have fun!

Please keep in mind that, since private messages are private and not public, you are allowed to send player coordinates to your friends using this method.
Messages by KoC Mail
Messages are used to communicate privately in Kings of Camelot. Messages will appear in a player's "
Inbox
". You can send a message to players by: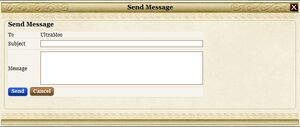 clicking on their name, visiting their court and pressing the "Message" button which is located at the bottom left.
going to the alliance list (top) and clicking "Message" to the right of the alliance name. This will send a message to the leader(s) of the alliance.
(if in an alliance) clicking on the "Alliance" tab in the directory, selecting "View All Members" link located in the bottom and then clicking "Message" to the right of the member to whom you wish to send a message.
clicking on the "Messages" button at the top of the screen, selecting the "Compose" tab on the far right, and directly typing their name into the "To:" line (without the Lord/Lady)
The chat rules also apply to messages sent by the mail function of the game. Please note that using this method, you are again, allowed to send player coordinates through this method, since it is not public.
Reports
Messages aren't just a way to communicate with other people. They are also used to deliver Reports. When you attack something, a report will appear in your messages folder. If you transport something, a message will show up in your messages folder. If troops desert, if you have searched the battlefield, and if you have bought something out of the market, a message will show up. To see what they look like, go to the Reports page.
Ad blocker interference detected!
Wikia is a free-to-use site that makes money from advertising. We have a modified experience for viewers using ad blockers

Wikia is not accessible if you've made further modifications. Remove the custom ad blocker rule(s) and the page will load as expected.